Bonobo loves its Staff!
Thank you to all those great people who worked with us, laughed with us, created this place with us and builded up kind of a family during their stay at our house!. 
Bonobo is the best place in because we work together with the biggest smileys!
We want to present you our actual team - say hello to the bonobo family!
Alicia, a 33 years old german-hungarian girl, that lives in mexico since 2008.
She opened up a Hostal in Mazunte "
"LA ISLA in the year 2011.
After 5 years in Mazunte she moved to Puerto Escondido and opened up her new project - Bonobo Surf House.
A fresh and young place with a lot of service experience.
Alice is the soul of the ideas around here.  She has a contagious laugh and energy about her. No matter how little sleep she may have had, or something she may be stressed about, you would never be able to tell, she is always smiling  She is probably one of the friendliest and generous people you will ever meet.  Never complains, always finds the positive or humorous side to things.  She always has an entertaining story to tell too.  But all jokes aside, she has put a lot of time and effort into the hostal to make it as good as it is today, she is always open to new suggestions or ideas about the place, and treats the staff here like family.    - the STAFF

---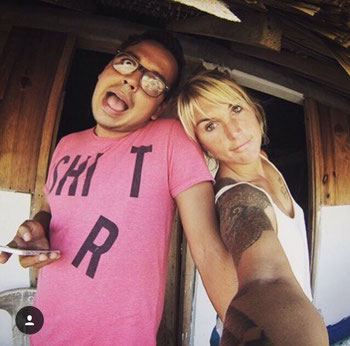 CARLO
(left side of the picture, in good position)
Carlo is a young (we are not allowed to tell his real age to public, sorry, Carlo said) Puerto Escondido born Super Partner. He is part of the bonobo family since the beginning in April 2017.
He is in charge of the admin side of things and helps us to keep chaos away from the hostel. 
This guy has the ability to put a smile on everyone (and anyones) face. His main tasks at bonobo are nanny service and personal psychologist for everyone who needs an open ear for all kind of problems that can easily be solved by our resident shrink (Carlo). The entire bonobo team is happy to have him on board. He's one of the greatest people on this little planet. Apart from that he takes care of the accounting part and helps us to win the fight against the monthly payment of a so called "rent". Thanks Carlo! You ROCK
---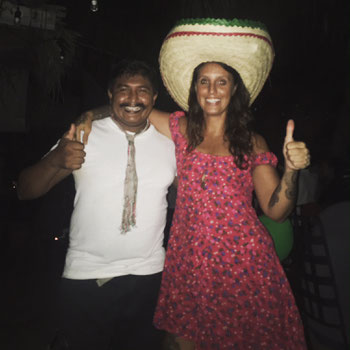 Vici is our original Tattooed Aussie staff member.  She doesn´t really speak Spanish, but makes up for it with her sense of humour and all around charm (and somehow gets by) .
Vic has been a big help with recruiting all of our lovely staff team and training them.  She´s also very easy going and very good at chatting to all the guests and making them feel at home. 
There is a Constant battle for her between staying fit and eating healthy or giving into the party temptations of Zicatela. She is also very caring and helpful to the other staff, and to Alice's dogs Mister Bonobo & Nuka. Thank you Vici for all the Smileys!
---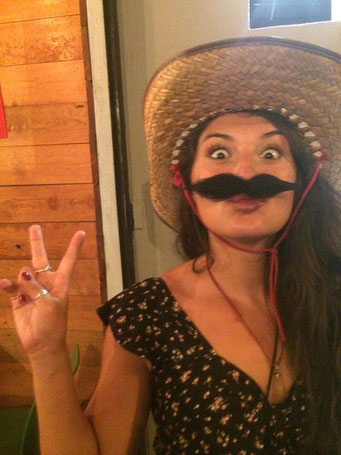 Hanna, Hanna, Hanna aka Hanna Montana, Miss Seattle…for a girl that has only been here 2 weeks, she has certainly settled in well.  Hanna is very happy and smiley, and a little dramatic ,p. She tries very hard to work on her Spanish with guests and it is really paying off.  She loves to chat to people, doesn´t mind a drink or two, but deep down wants to be super healthy.  She is great though with all the guests, and is always helping out both staff and guests in her free time. Never a dull moment around Miss Seattle, we hope she stays here a long time.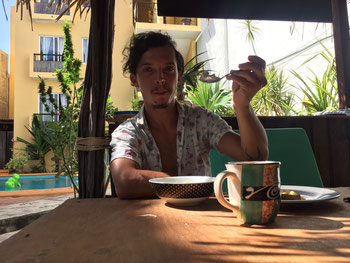 Andres 
He is from Costa Rica, yet speaks English fluently and his spanish is pura vida!.  He is very smooth talking, yet easy going.  Is happy just cruising through life. 
He is a master in the kitchen and the one who gonna prepare your breakfast - together with our lovely Berta - every morning!  Also our famous family dinners at the Rooftop are prepared by Andres and Berta! Thank you for making our tongues so happy guys!!!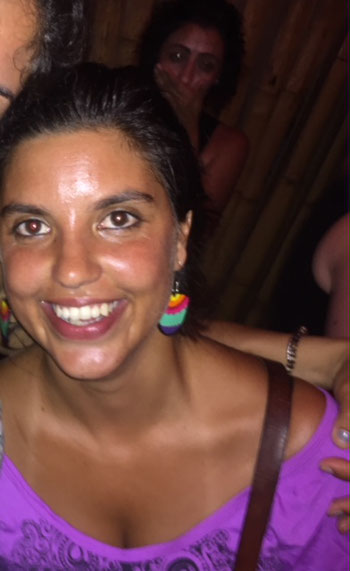 Berta is our beautiful little Argentinian and helps Andres with the breakfast and dinners! Nothing better to wake up with a coffee and a huge smile from this always happy girl! 
She can often be found down at Carrizilillo making her threaded bracelets or working on that Argentinian tan!
---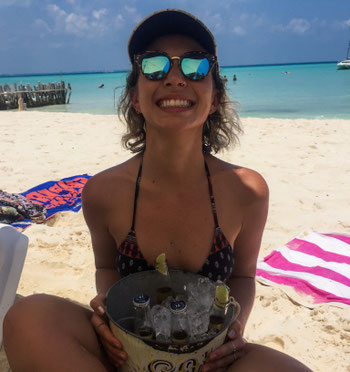 Kate
The other Aussie in the House.  Kate is fresh off the boat as of today, and will be helping us with both reception and Cleaning.  Like most other Australians, she is very friendly and easy going with a good sense of humor.  She has been living in Canada the past few years, so we will see how she goes with the contrast of Mexico.  As she is just new to the team, we will add to this post later