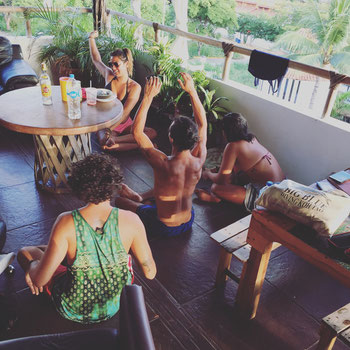 Let´s get random! Actually, let´s just do whatever we feel like.  This is what Puerto Escondido is all about, Pura Vida, waking up everyday to no plan, except sun, surf, and spending time with our brothers at the best hostel.. Bonobo Surfhouse!  Last night, we had an impromptu yoga session on the roof.  We got felxible with our yogi´s in the house!  Thanks ladies!  It´s really nice being at an amazing hostel in Puerto Escondido where everyone has something to bring to the table, stories to share, games to teach, jokes to laugh to and just out right banter all day!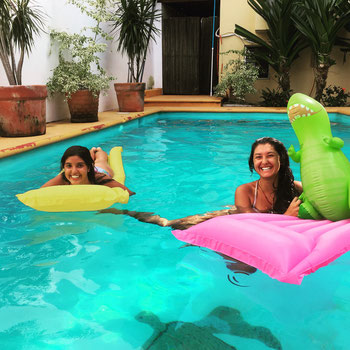 Let´s pool!  We all know Puerto Escondido´s hot weather can be a bit draining, so morning, afternoon, and evening dips in our pool are a must!  That´s what makes Bonobo Surfhouse one of the best hostels here in Puerto! We have our little dinosaur who keeps gaurd of the pool.  So get on over to Bonobo for a splash in our pool, and if you´re lucky you might walk in on one of our pool parties!
Or sometimes we just like to chill to look cool... take Andres for example...