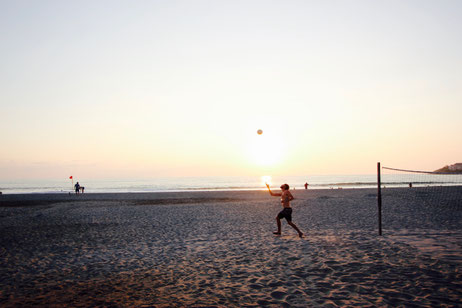 We packed all our Staff and many of our sporty guests into the bonobo beetle (and some cabs to not squeeze them out :) and went to Zicatela Beach.
Zicatela gave us a picture like not many days - mini waves. Bonobo all together into the water! Nice to have a quiet swim @ the heaviest beach break of the world (Home of the WSL BIG wave tour !)
Thanks to Palapita Bar for preparing all theses Micheladas for us!
When the sun set down and turned the sky into orange, red and purple we started our Beach Volleyball Competition. 
The Winners? The smileys we took home this day!
After the Sports we got some frozen yoghurt ice-cream at "Kühl" - strawberries and chocolate cookies on top - delicious! 
We love those bonobo family days!!!
Don´t miss the BONFIRE we gonna do tomorrow 4.11.2017!